---
---
There's nothing kinky about the Bataleon Funk.Kink Snowboard, because this all-mountain ripper will appeal to everyone. 3BT™ tech uplifts the sidebases for slick turns and killer float, and the medium camber and flex are reliably snappy. Dual Super Tubes lighten the load and pack an extra poppy punch so you can bounce and butter your way down the entire mountain.
3BT™ (Triple Base Technology) with SideKick™ – All Bataleon boards feature tip to tail positive camber in combination with lifted sidebase contact points. SideKick™ Tips enhance 3BT's advantages like nothing you experienced before by dramatically increasing the sidebase uplift at the widest points of the nose and tail. This makes turn initiation even smoother, increases float in powder and handling of the board in rough terrain.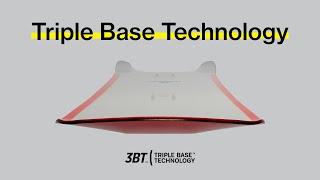 Flex
Flex Rating – 4 (1 Soft - 10 Stiff)
Core
Core Core – Full poplar with beech hardwood laid tip to tail along the inserts strengthening the board's backbone, reinforcing the inserts and producing more pop.
Laminates
Biax Laminate – Bataleon's traditional and time tested two-way weave of fiberglass is light, strong and responsive; keeping the board snappy without adding torsional stiffness.
Dual Super Tubes – Dual Super Tubes are two hollow carbon core upgrades that are inserted into the core. The hollow carbon tubes greatly increase the woodcore's pop and reduce weight.
Sidewalls
Shock Walls – Urethane infused sidewall technology. Shock Walls smooth out your ride and are more resistant to impact.
Base
Hyper Glide S – Bataleon's standard sintered base that's durable and fast – and even faster when you keep it waxed.
How it works
Triple Base Technology™ is not one shape but a design philosophy. The precise areas in which we apply a three-dimensional profile, the amount of uplift and the width of the centerbase varies on each model depending on the kind of terrain it needs to excel in.
Flat Base Riding
The widest section of the board is lifted off the snow while riding flat based. This allows you to ride straight without hooking up or needing to keep your edges engaged.
Turn Initiation
When set on a slight angle, the sidebase starts to engage near the bindings. Unlike traditional flat boards, pressure remains constant along the contact edge.
On Edge
While on edge, the 3D shaped side-cut forms a complete arc with the snow, offering unparalleled grip and turning power.
---